NEWS
All the latest news from Cliona
The first 10 of the series goes to… CLIONA



by Cliona | Feb 11, 2019 |
An 'OMG' and the first ten of the series saw Cliona and Vitali Kozmin the winners of Dancing with the Stars Switch-Up Week.
Dancing the Samba, Cliona had both the audience and judges whooping with admiration, with judge Lorraine Barry saying she could only describe the dance as 'O.M.G!'
No one was eliminated at the end of this special edition of the show – but the votes did count, as the scores will carry over to next week's show, when the dance-off returns.
With a total of 28 points – including the first ten this season from Julian – Cliona and switch-up partner Vitali were the judges' favourite on the night.
Cliona has said of the time and effort she has put in week after week, is to do her voters proud – "It's true, I am working so hard because I really want to do my best for the whole country — not just my county.
Proud of her roots, Cliona is also hoping that country music might benefit from her role in DWTSI adding: "I'd love the show to create more interest in country music, which is a brilliant genre with its own festivals and circuit."
Text CLIONA to 53125 when voting lines open during the show.
Cliona dances to childhood hero and receives Female Vocalist of the Year Award



by Cliona | Feb 4, 2019 |
It was a sentimental dance on Sunday night for Cliona as her and professional partner Robert danced to Shania Twain – a favourite of Cliona's from when she was a young girl first starting to sing.
"Great in hold", Cliona was given great, constructive feedback from the judges scoring a total of 22 – beating the last 2 weeks' dances, and ending up second on the leaderboard.
But Cliona still needs her fans to VOTE for her, telling the Irish Sun this week, "Obviously I have been up and down the country to get support. I'm hoping people will want to keep me in, and will see my progress every week."
An early Glitterball trophy at the Sunday World Awards this week for Cliona, being handed yet another Award for Female Vocalist of the Year, three years in a row!
Cliona entertained the Sunday World audience performing a medley of her hits, and before leaving the stage, received roars from the crowd to dance – alongside professional partner Robert, which they delighted in showing a few moves from their latest dance.
 Cliona says "the training has definitely stepped up another gear and The Sunday World Awards gave us the chance to rally votes and hopefully we made a good impression to win new supporters."
[Cliona Hagan will return to DWTSI next Sunday RTE ONE at 6.30pm].
Cliona jives Legally Blonde on Dancing with the Stars Ireland

by Cliona | Jan 28, 2019 |
Cliona and Robert looked very glamorous as they took on 'Movie Week' in Dancing With The Stars Ireland this weekend.
Cliona channeling Elle Woods from Legally Blonde danced to a lively jive, keeping consistent for the second week in a row scoring 21 from the judges.
"A perfect pairing", Cliona and Robert are still amongst the favourites to WIN – but only if her fans keep voting, by texting CLIONA to 53125 during the show.
This week Cliona said she wants the public to learn that Irish country music isn't just for those who are '60 plus', saying "gigs are regularly packed with young revelers".
Cliona told the Irish Mirror: "It's funny because Irish country music is really perceived as being for a certain generation of people, for example, 60 plus.
Fair enough, older generations go to the concerts but if you go to the festivals and the country dances, they're full to the brim of young people and every age group.
What I love so much about the genre of music that I sing is that it's not age relevant. You don't have to be 22 to go to [a show]… The whole family can go. I have to say, Irish country music lovers would have to be the most loyal fans – it's lovely to be a part of it."
[Cliona Hagan will return to DWTSI next Sunday RTE ONE at 6.30pm].
Cliona through to next round on Dancing with the Stars Ireland



by Cliona | Jan 21, 2019 |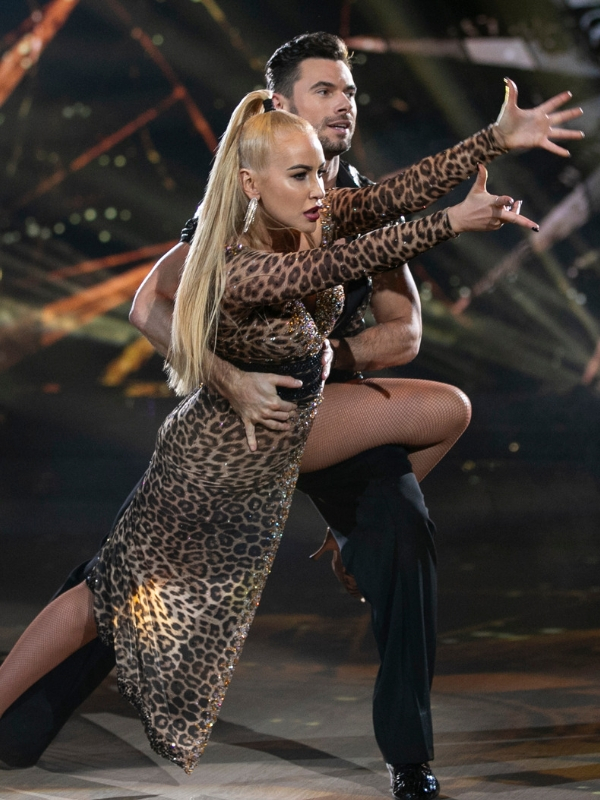 Cliona last night danced her way through to the next round of RTÉ's Dancing with the Stars.
Cliona and dance partner Robert were praised by the judges for "smoldering with their rumba", as they danced their way through to next weeks show to Rita Ora's Let You Love Me.
It was the first week where all eleven dancers performed their individual dances, with Cliona and Robert scoring 20 points out of 30 for their routine.
Judge Julian Benson said it "was a ridiculously raunchy rumba from start to finish". "The chemistry was wonderful… it was mesmerising," he added.
Cliona also told of how she had invited Tyrone model Kate Grant to join her on last night's show, who was seen sitting in the audience of Dancing With the Stars after Cliona had surprised her with tickets the evening before on The Ray D'Arcy Show.
The 20-year-old, who recently became the face of global beauty Benefit had previously told of how she had five goals for the new year, including attending the show to see her idol Cliona Hagan dance.
Kate said "it was a dream come true" to watch her friend perform, telling the Belfast Telegraph: "This meant so much to me because I love Cliona and her singing. She really inspires me".
The first unlucky couple to be voted out of the competition last night was Eilish O'Carroll.
[Cliona Hagan will return to DWTSI next Sunday RTE ONE at 6.30pm].
Cliona 'WOWS' with first dance on Dancing with the Stars Ireland

by Cliona | Jan 13, 2019 |
Cliona and her professional dance partner Robert Rowiński wowed judges on Dancing with the Stars Ireland last night with their "cool, contemporary country quickstep", earning them the top spot on the leaderboard.
It was the ladies turn last night to take to the dance floor to show off their fancy footwork in the second episode of the new season of DWTSI.
Performing a mix of quickstep with line dance to Luke Bryan's hit 'Country Girl', Cliona revealed she had helped choreograph the country elements into her dance. This left judge Julian Benson enthuse, "I love people who push things beyond the bar… the fusion between the quickstep and country…very very clever."
The biggest critic on the show Judge Brian Redmond praised the "energy and fun" Cliona brought to the night, with Lorraine Barry commending the partnership for the "hardest dance you can do", adding "it was fantastic".
Cliona stormed to the top of the leaderboard with 21 points from the judges.
[Cliona Hagan will return to DWTSI next Sunday RTE ONE at 6.30pm].
Dancing With The Stars 2019
Swapping her country shoes for dancing stilettos – this Sunday 6th January, country music star Cliona Hagan will step out of her comfort zone and take to the dance floor on Dancing with the Stars Ireland – hoping to claim the much-coveted Glitterball trophy at the end of the series.
Among the last 3 contestants revealed on the Late Late Show, Cliona said "I'm very excited, nervous, and a little apprehensive, but overall I'm feeling great and can't wait to see how far I can push myself."
Each dancing pair will have a different genre to master every week from the paso doble to the waltz and they'll have just seven days to perfect their routine, before performing live to the nation. 
Hoping to win, Cliona says of her positivity "When I say I want to win Dancing With The Stars, I don't say that in an egotistical way," she told the Irish Sun on Sunday.  "I mean it in the sense that you should always try your best in anything that you do, and I always live life to the fullest." 
Cliona could be a contender – Paddy Power have her at 8/1 to WIN, but she needs her fans support as the series will run for 12 weeks, wrapping up on Sunday 24th March.
With a new presenting duo of 2FM regulars Jennifer Zamparelli (replacing Amanda Byram) and Nicky Byrne, an interesting mix of contestants, and the return of the regular judging line-up, this third series may prove to be the best yet.
Good luck Cliona and keep dancing!
 [Also set to take part in the third series for the race to the coveted Glitterball trophy include: Peter Stringer, Cliona Hagan, Demi Isaac Oviawe, Clelia Murphy, Mairead Ronan, Johnny Ward, Eilish O'Carroll, Denis Bastick, Darren Kennedy, Fred Cooke and Holly Carpenter].